The Leeway Story
Your friendly neighborhood butcher shop offering handcrafted signature sausages, locally-raised meats & more.
Custom processing and cut-to-order bundles, curbside pick-up and delivery available.
Eat local | eat well
Handcrafted Sausage &
Quality Meats
Named one of the best butcher shops in America by Food & Wine,  Leeway Butcher is "a sustainability-minded, whole animal operation sourcing from small, local farms". As a nose-to-tail, full service butcher shop, we offer a variety of both well-known and less common cuts in addition to our handcrafted, all-natural sausages. Our butchers cut to order and are always happy to offer suggestions and cooking instructions.
Leeway Butcher was founded by butcher and owner, Lee Meisel. Lee's career initially began on the family farm in North Dakota and longstanding Mandan, ND institution,  Butcher Block Meats. Lee continued his work as a butcher and food industry professional upon relocation to Lawrence, KS where he completed a business degree at Haskell Indian Nations University. 
Business partners and spouses, Lee and K Meisel, opened Leeway Franks, a counter-service eatery focused on serving high quality comfort foods made with local ingredients in 2015. The Meisels expanded their operation in 2018 by opening Leeway Butcher adjacent to Leeway Franks in the Hillcrest Shopping Center in Lawrence, KS.
Lee is a member of the Standing Rock Sioux Tribe of North Dakota. Leeway Butcher is Native American Owned and a certified Minority Business Enterprise. Leeway Franks & Butcher was twice awarded Minority Owned Retail Enterprise of the Year by the Kansas Department of Commerce, named Emerging Small Business of the Year by the Kansas Small Business Development Center and a finalist for the Kansas Governor's Award of Excellence.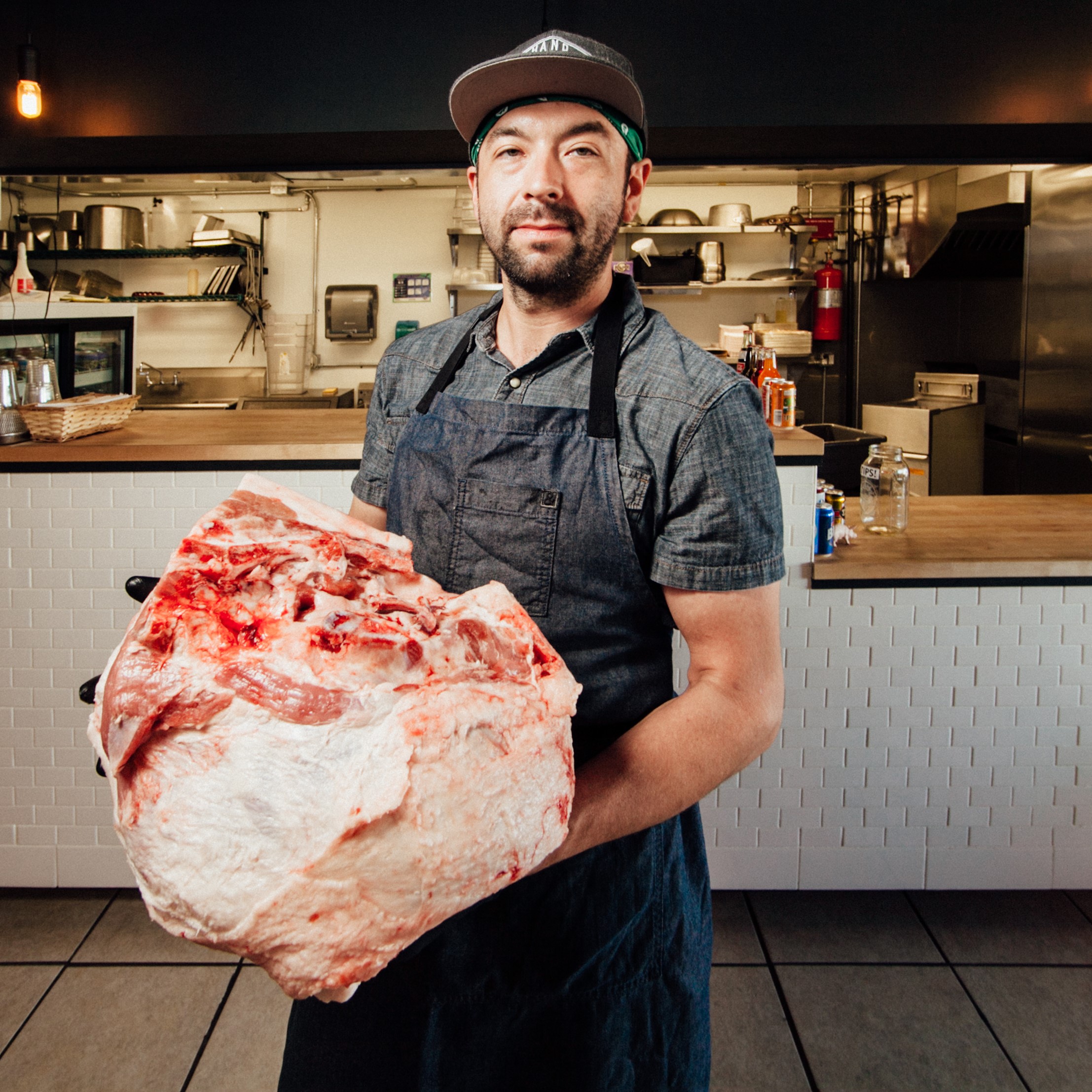 Visit Us
Located in the Hillcrest Shopping Center at 9th & Iowa
Store Hours
Tues-Sat: 10am - 6pm
Sun & Mon: Closed